Sea Kayaking
White Water Kayaking
Penrith Whitewater Stadium
Last Updated: April 13, 2020
Wilson's Promontory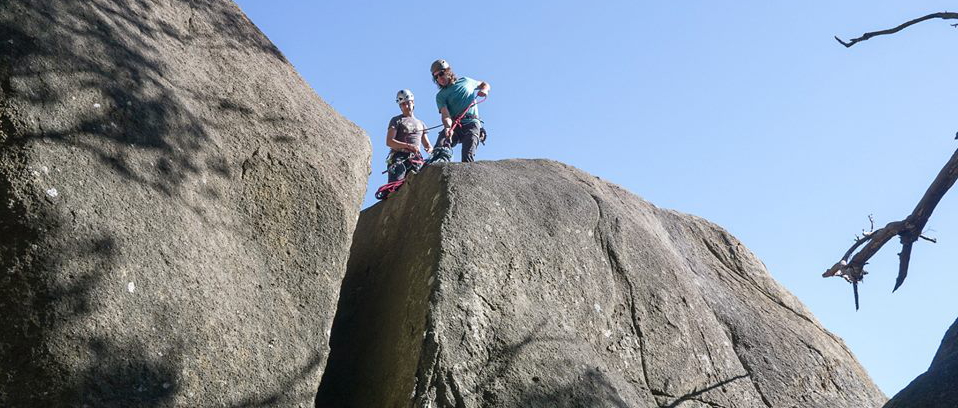 Mount Alexander
Mount Alexander offers easily accessible climbing on large granite boulder in a nice forest setting. It consist of two main areas Dog Rocks and Wabbit Wocks.
Type of climbing: Slab and Cracks, with mostly trad protection and the occasional bolt. Some Sport routes.
Grades: easy (1-12) 17; intermediate(13-18) 39; advanced (19-24) 36; expert (25-33) 14
Beginner friendly: yes
Top Rope friendly: yes
Day Trip friendly: yes
Walk in: Dog Rocks 5im easy; Wabbit Wocks 25min steep
Camping and Facilities: no
Distance from Melbourne: 130km; 1h30min
Port Phillip Bay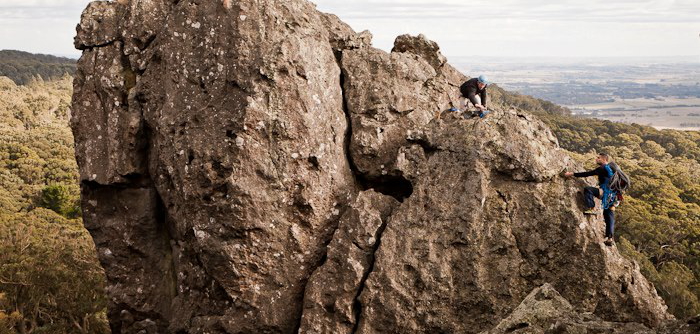 Camels Hump
Camels Hump is the perfect summer location. It's temperature is usually about 10C lower than in Melbourne. It is perfect in summer and absolutely freezing and miserable in winter. It offers easy to moderate trad routes, harder sport routes and a newish easy sport crag within a 5 min walk to the main area.
Type of climbing: A bit of everything.
Grades: easy (1-12) 46; intermediate (13-19) 62; advanced (20-24) 54; expert (24-31) 14.
Beginner friendly: yes
Top Rope friendly: yes
Day Trip friendly: yes
Camping and Facilities: none; Mount Macedon Village (4km) has a cafe/convenience store/post office and a pub.
Distance from Melbourne: 63km; 1h
King River
This is a good river to begin on, it is best run when the water is above 1.4m in hight, between August and November. There is a great camping spot right next to the river between the Damn and Cheshunt, you will come to a cutting in the road with a little road doubling back on the left, it is very steep and rocky but most car will find it easy in first gear to get back out. Always take two rafts in my opinion so that you can have a rescue boat.
Mitta Mitta
This is a much more serious outing and requires a bit of experience before attempting it. There are several notable rapids such as pinball, graveyard, S-bend, the gobbler and waterfall to name the most major ones. At times this river gets as far as 8Km from the nearest road so an accident could be fatal. There is a great pub called the Blue Duck which you can camp very near by as it is also right next to the river.